By Jim Ursulak (Nanaimo, British Columbia, Canada)
Published by the author in the Bukovina Society of the Americas Newsletter,
Vol. 15, No.4, December, 2005
---
I turned 72 on June 13, 2005.
About twenty years ago, shortly after I got my first computer, I created a spreadsheet and was the first Ursulak to construct our family tree using a computer. Later I obtained a genealogy program and over the years greatly expanded and shared the information with relatives. This hunting for roots also created an itch. "Some day," I mused, "I may actually see the town where my father was born." I once casually expressed this wish to my son and to my surprise he indicated that he would like to join me as it would be an excellent experience for both of us. Two years later, in May 2004, I scratched that itch and saw Voloca, Bukovina, the birthplace of my father. In 1897, the year he was born, Bukovina belonged to Austria-Hungary. In 1918, after World War I, it was turned over to Romania and remained so until the end of World War II when Russia again redrew the border and incorporated northern Bukovina into the Ukrainian Soviet Socialist Republic.
My father was three years old when he came to Canada and like many others, his family had no papers when they passed through immigration. In 1939 dad applied for a copy of his birth certificate to obtain proof of age to confirm a bona fide registration in Canada. As a youngster I was puzzled by the fact that my dad was "Austrian" although our family was clearly Romanian. These border shifts explain why his birth certificate, issued in 1939, bears a Romanian postage stamp.
Jimmy, my only son, is an experienced globetrotter. As a field sound engineer for television productions his profession has taken him around the world many times. (He currently works with film crews that produce the popular episodes of Survivor and Amazing Race.) His work once took him to Moscow where he spent several months and acquired a working knowledge of the Russian language. Jimmy has reached the point where he can communicate with Russians or Ukrainians well enough to act as an interpreter. I, on the other hand, except for "dobra, dobra" can't speak Ukrainian and just know a few words in Romanian. It was no longer spoken in my family when I came on the scene.
Jimmy took care of all the preparations and used his regular travel agent Myrna Arychuk of Times Square Travel Ltd in Richmond, BC to make our bookings. On May 6th, Jimmy and I headed for the old country. We flew to Heathrow, London, rested overnight, and then continued on to Kiev the next day. I have traveled quite a bit and have flown on many different airlines but after this trip, I wouldn't hesitate to say that British Air is the only way to fly!
We were met at the Kiev airport by our personal tour guide Svetlana and her driver who were booked for us by Jimmy's travel agent. She took us everywhere to see the sights of Kiev. I am a musician and particularly wanted to see the Great Gate of Kiev, which is musically depicted in Moussorgsky's classic Pictures at an Exhibition. This ancient structure is still standing and is known as "The Golden Gate."
That night we slept on a train from Kiev to Lviv. We had first class accommodations in a compartment for two. This, too, had been booked by Times Square Travel but after Lviv we would be on our own. We arrived in Lviv at 7:00 A.M. and considered taking either a train or bus to Chernivtsi [Czernowitz] but when a cab driver offered to drive us there for only $75 Canadian we quickly accepted. It was a very interesting trip and signs of a growing economy in that region were evident. Many of the gasoline stations along the route are new (gas is 59 cents Canadian per liter) and every new home under construction was being built with red brick. There was lots of construction and many signs of expansion along the route. Still, I saw numerous elderly peasants along the way, sitting by the roadside waiting while the family cow grazed nearby on the free grass by the highway.
After a speedy comfortable three-hour ride, we arrived at Hotel Bukovina in the center of Chernivtsi. Room rates were incredibly cheap so we booked separate rooms. They were spacious with high ceilings and some included a balcony equipped with a table and chairs and flowers in the planter overlooking the front of the hotel. This large old five-story building was once used to accommodate KGB officials. My bathroom had an enormous deep tub with a handoperated showerhead and a "different" version of a flush toilet. The hotel provided one tiny, tightly rolled packet of unbleached toilet paper. (I was glad that I had brought my own and kept their TP as a souvenir). The cost? Only $28 Canadian per night, and this included breakfast! Obviously Chernivtsi has yet to be discovered in the tourist world.
Of course most items on the menu were tasty Ukrainian dishes so we had most of our meals in the hotel. The cost, with a 10 percent tip, was less than $10 per person. This included a large bottle of excellent Ukrainian beer. Jimmy loves this city and wants to return. He wandered about by himself taking numerous photos with his camera and camcorder. Early every morning one will see elderly people, mostly women, sweeping the sidewalks and the cobblestone streets with handmade willow branch brooms. I was impressed at how clean the city appeared the day following May 9th, "Victory Day" (VE Day), a special day to celebrate the end of Nazi occupation. No litter but ……hmm, unfortunately spitting is still tolerated and evidently a common practice. I also noted that stray dogs of all sizes run freely about the city, even in Kiev.
The day after we arrived we planned to locate the regional archives building and inquire about my father's registration. I had a copy of his birth certificate, which in Romanian stated his birth as "1897, August 17" and his parents "Stefan a Nicolaea Ursuleac" and "Zoita nascuta Ili". We finally found the archives after searching all morning. There was an unexpectedly long queue of elderly folk in the waiting room, but we eventually got our turn to speak to an official. No luck. He directed us to the "other" archives building where the older records are kept.
Well, since we had not yet seen the village of Voloca, which is about a 15-minute drive away, we decided to take a cab and scout the town. Jimmy told the driver we would probably spend about ten minutes or so in Voloca and then return to our hotel. The village is beautifully nestled among rolling hills with farmland everywhere you looked. Our driver stopped to ask a local for directions to the town center. Jimmy took this opportunity to get out of the cab and he showed dad's birth certificate to an old fellow, explaining that our mission was to find out if any Ursulaks still lived in Voloca. This old guy's name was Teodor. His face lit up and he waved his arms about and instantly and loudly proclaimed that he would help us and, without invitation, jumped into our cab. For the next hour or so, he took us from house-to-house, field-to-field and presented dad's birth certificate and a large computer printout photo, which I also brought with me of Stefan and Zoita Ursuleac (my grandparents).
Most people he approached were quite old and noticeably dubious and uncertain. We gave it a good try and were ready to give up after about eight inquiries, but Teodor insisted "just one more place." He would not give up. Our patient cab driver silently just went along with the flow. Finally we struck gold when Teodor went into an old whitewashed, steep-roofed cottage, similar to farmhouses I had seen which belonged to my relatives when I lived in Manitoba in the thirties. This house had electricity but no plumbing.
He came out a moment later, his face beaming, and shouted loudly for us to come in while he frantically beckoned us with both arms. He found a ninety-year-old old woman whose maiden name was Domnica Ursuleac. Her daughter Maria and her husband also happened to be there. When Domnica saw the photo of Stefan she smiled and softly said," This is my Uncle Stefan" and kissed the picture. I wish I could have captured that moment on video. What a stroke of luck that her vision was not impaired and she could recognize the features of the elderly couple in that photo! From that moment on, Jimmy and I were in the midst of jubilation. We were squeezed with hugs, and were kissed by women and men! There were tears of joy on all the faces. It was a magic moment that still brings a tear to my eyes when I think of it. Oh how I regretted that I could not understand Romanian!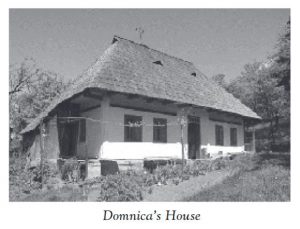 I learned that Domnica's father Grigori, previously unknown to me, was Stefan's brother; therefore, Domnica and my father, who passed away in 1973, were first cousins. Well, it was a time to celebrate! This lovely, serene old lady, who was born and continues to live in this 100 year-old cottage, dropped to her knees and crawled across the floor and went under the kitchen table to some hiding place and came out smiling as she held up a large bottle of vodka. Maria disappeared for a while, then returned with a few plates of hurriedly prepared snacks while her husband kept our glasses charged with vodka and beer. In true old country fashion we were urged to eat, eat, eat!!
Maria's daughter, a schoolteacher, joined us, then Maria's sister Stella arrived on the scene. Poor Jimmy, the only one who could communicate, was deluged with questions and did his best to respond to all of those eager faces. He must have been doing a great job because they smiled and nodded with pleasure to his responses. Meanwhile outside, the cab driver waited and waited patiently for us. Ten minutes! Ha! About an hour or so later we emerged and intended to take Teodor to his home and then return to our hotel. Nope! He protested and loudly insisted that we accompany him to his "club." He wanted to introduce us and announce his personal triumph to his friends and to buy us a round. This resulted in more beer and vodka and Kielbassa etc., etc.
When we finally returned to our hotel, we paid the cab driver double the cab fare that he requested, so he too was happy with how the day had passed. We arranged to come back to Domnica's home the next day to meet more relatives.
The next day we hunted for that "other archives building" in Chernivtsi, which turned out to be a large ancient church no longer used for that purpose. If we were prepared possibly to wait several hours (because this queue was even longer than that of the day before), perhaps we might get in and find my dad's registration. We waited for a while and then I said, "Why are we wasting our valuable time? We have already FOUND our relatives, so what more do we need?" At 1:00 P.M. our faithful cab driver took us back to Domnica's and we began another afternoon of excited chatter. We went from house to house and met more relatives stemming from Grigori Ursuleac. I met Domnica's other daughters, a granddaughter, a great- granddaughter and husbands, etc., etc.
I encountered numerous familiar names such as Gorda, Pentlichuk, Chescu. (One individual in particular, Nicolai Gorda, a dentist, has a brand new, exceptionally beautiful house so some members of his generation are doing quite well.) He said he had visited Chescu and Gorda families in Inglis and Russell, Manitoba about nine years ago. I said, "INGLIS ??? I was BORN in Inglis!!!" and that set off a new round of excitement and more questions.
One special moment during that second day was seeing the well that my grandfather had dug. His house is gone but the well is still there. The royal treatment we received and the numerous toasts with vodka overwhelmed us until we finally had to say our goodbyes. (On the way back Jimmy said, "Dad, I'm seeing double!") We returned loaded with gifts to take back to Canada. What an amazing experience. Only a few days earlier we didn't know each other and now we are family!
Further to explore and learn about this part of the country we decided to return to Lviv by bus rather than take a cab. It would be cheaper and certainly more interesting. We had front seats on a rickety old bus and rubbed elbows with all types of people as they got on and off at the many villages, and get this, the bus fare was only $4.85 each for that eight-hour journey!
We again slept on an overnight train from Lviv to Kiev and next day flew back to Canada. Although our visit to Bukovina was brief and the trip a bit exhausting for someone my age, it was certainly worth every cent. I bought a memory, which both my son and I will cherish. I was the first member of my family to have visited Voloca.