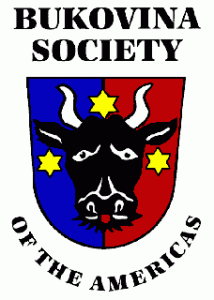 In 1862 Emperor Franz Joseph I awarded Bukovina a ducal coat of arms: blue and red longitudinal sections and the head of an aurochs surrounded by three golden stars. The coat of arms is surrounded by a velvet coat on which a duke's hat lies adorned with precious stones. (Bornemann, Kulturelle Arbeitshefte)
An Aurochs is the extinct wild ox of Europe, from which today's cattle are probably descended. A large black animal, it stood 1.8 meters (6 foot) high at the shoulder and had spreading, forwardly curved horns.
François R. Velde's WWW page, Arms of the Austrian-Hungarian Monarchy provides further descriptions and illustrations of both the Imperial Arms and the Arms of the various crown lands of the Austro-Hungarian Empire. It quotes Meyers Grosses Konversations-Lexicon, 6th Ed. (1908) for the heraldic description of the Arms of the Duchy of Bukovina: iper pale azure and gules, a bull's head caboshed sable, horned argent, between three mullets or.
The Bukovina Society of the Americas, like the Landsmannschaft der Buchenlanddeutschen, has adopted this crest as its own. A similar crest appears on the flag of the Republic of Moldova.