By Gail Tremblay
Published by the author in the Bukovina Society of the Americas Newsletter,
Vol. 19, No.3 September, 2009
---
My grandpa, Alfred Schuster, who resides near Hays, Kansas, my parents, Steve and Barb (Schuster) Tremblay, and I all decided to take a trip to the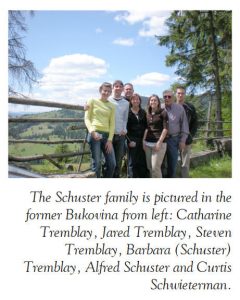 region of Bukovina, which is in present day northern Romania, to try to locate where our ancestors came from. The adventure really started months before we left when I came to Hays to visit grandpa and started my research at the Bukovina Society of Ellis County. I got a lot of help from Joe Erbert and Oren Windholz. Finally the day came and we departed on the 23rd of May, 2009.
On arrival we walked about the capital, Bucharest, which is still attempting to rid itself of nearly 50 years of Communist domain. The only resemblances of that time appear to be the 'Soviet-like' buildings still nestled all over the city. Upon closer inspection, Bucharest today appears the same as any other European city, with cafes crowded with locals enjoying themselves on a beautiful Sunday evening along the crowded side streets of the oldest district in town.
In the morning, it was back to traveling, as we flew north to Iasi, and collected our compact car for the next leg of the trip. We headed towards Suceava to pick up Curtis from the train station. He is a good friend working in the Peace Corps in the eastern Ukraine; and graciously took two, twelve hour train rides to meet up with us. But on the way to get him, we noticed rather quickly on the autostrada (highways), that we might not make it. It appears there are no speed limits and it is normal for people to pass with no space provided on the road and with constant oncoming traffic. We learned it was our responsibility to pull off the road if we couldn't keep up. This also proved difficult considering that goats, cows and horses are tied-up near the roads as a local substitute for lawn-mowers! We did in fact make it to Suceava, found Curtis and got some local assistance with directions to Gura Humorului.
Later in the evening, we were met by my brother Jared and his wife Catherine. Now our entourage was complete. We strolled through Gura, which it must be said, is a lovely town. I recommend to anyone visiting, use this as your base for travel. It was small enough that we didn't have to deal with too much traffic, and I believe we were close to everywhere we wanted to visit.
In the morning we were ready to find Fürstenthal, or Voievodeasa as it is known today. After a couple of wrong turns and providing a lady a ride to the nearest town (hitch hiking is safe and used by everyone, including children), we ran into our destination.
With hopes high, we entered the small village of Fürstenthal, which is nestled between some hills. This area is on the Eastern edge of the Carpathian Mountains, and is very hilly, and quite beautiful. Not locating the Church that I've seen in pictures before (thanks to The Bukovina Society), we stopped near a group of ladies standing around chatting. We used what seemed like every word we could come up with for church and mimicking the sign of the cross, before Catherine came up with Basilica. They all understood instantly that we must be Roman Catholic and not Greek Orthodox, and sent us across a gravel road with a creek of some sort running through it. We thanked them (Mult'umesc), and set out to cross the creek with our 'not so Hummer like' vehicles!!
Rather quickly, we found the Catholic Church and went inside. It was beautifully kept, with stained glass windows picturing the Holy family (Sfanta Famille), St. Michael the Archangel (Sfantul Arhanghel Mihail), The Holy Spirit appearing as flames above the apostles (Coborarea Sfantului Duh), and the Annunciation of Mary (Buna Vestire). There is even the Last Supper painted on the ceiling. The whole interior of the church is kept in excellent condition, as well as the yard outside. We decided to press on in hopes of finding the cemetery, which was not in immediate view of the church.
We proceeded down every road in the village, and made many turns winding us up through the hills. After almost two hours of hopeful exploration and many disappointments, we decided to look on the upper part of town once more. We found an alley between two houses, filled with waist high grass and trees pressing everything into shadows. At the end was a wood fence with a rickety gate. We walked down the alley, thinking it would be just a field on the outskirts of town. To our happiness, it was our cemetery. Today it has been taken over mainly by the Romanians living here, but we did find tombstones with names of our ancestors.
There were no first names of our ancestors as we were hoping to find, but names of descendants who had stayed after our family left in 1901. Some of the names we found in relation to ourselves were Augustin and Gaschler. The last names of Baumgartner and Zimmer were also located in the cemetery. We noticed that on recent burial sites, there was a whole mound of wreaths that reached at least 3 feet in height and covered the whole area where the ground had been recovered.
Standing upon that hill, knowing our family had walked these same hills was very moving. I wish we could have spoken to the town's people to see if they remembered any-thing about the Germans who had lived here before them. Unfortunately, our language skills in Romanian were too limited. We sat and had a long dinner a few miles from Fürstenthal and reflected how far our family had traveled for a better life.
The next day as we headed back to Bucharest once more, I thought of what we had found and how beautiful the area was. I wish we would have had time to learn more, but I believe the trip was still a success. More than a hundred years later, we were still able to find the location of our family's village with the Catholic Church and parts of the cemetery still intact. I think that is amazing, considering that the village was renamed and taken over by a different group of people who migrated to the area.