By Peter Grunikiewicz (Büsnau/Stuttgart, Germany)
Published by the author in the Bukovina Society of the Americas Newsletter,
Vol. 19, No.1 March, 2009
Continuation of articles in the December 2008 issue of the Newsletter in which Michael Augustin and Peter Grunikiewicz describe various aspects of their September 27 – October 9, 2008 trip to Bukovina. Place names are given in their current Romanian spelling.
---
Our trip to Bukovina, the land of our forebears, seemed the fulfillment of a life's dream. Thanks to Roland Loy, our guide,chauffeur and translator, we were able not only to tour northern Bukovina, albeit briefly, but also to meet distant relatives and traverse the villages, fields and graves of our antecedents.The sights, smells and sounds of Bukovina, its landscape, music, foods, the chatter of old and young alike, and its Byzantine church architecture transported us to a world we had heretofore only experienced vicariously through the media, and of course, through contacts with Bukovinians in the diaspora.In the following narrative I shall attempt to share with the reader the most meaningful aspects of the trip I undertook with Michael Augustin to "the land between Orient and Occident"once called Bukovina and now partitioned between the Ukraine and Romania.
Our first stop after we had crossed the Romanian border was Rona de Jos near Sighet in the district of Maramoros where at about 8:00 p.m. we checked into a small boarding house.Pressed for time, we could only capture limited impressions of its impressive landscape. Here it would have been interesting to visit the "merry cemetery" of Serpanta, "merry" because of the humorous inscriptions on its tombstones.
We needed no alarm clock to awaken us the next morning.The increasingly louder resonance of auto traffic intermingled with the pounding of horses' hooves on the pavement brought with it the realization that a new day had dawned. After a hearty breakfast and with fresh fruit from our hosts as snacks on our journey, we continued on our way. The relatively short distance from Sighet to Gura Humorului took longer than we had anticipated due to the many construction sites along the way. Nonetheless, thanks to Roland's driving skills, we arrived at our destination at about 2:00 p.m. En route we stopped at the Prislop Pass for a short rest and tried to catch our first glimpse of Bukovina. Unfortunately a dense fog had settled over the area. Nonetheless, the street sign "Cârlibaba" told us that we were headed in the right direction.
Visibility had improved by the time we reached Cârlibaba and Iacobeni, so that we could take pictures. After several inquiries we were able to find the German cemetery in Iacobeni, which lies on high ground and can only be reached on foot. The graves are slowly sinking leading to the expectation that the cemetery will ultimately revert to pasturage.
In Gura Humorului we were greeted by our hosts, Viorica and Vasile Corelaru, where we found very well-maintained accommodations. After the preliminaries we departed for nearby Voronet for a get-acquainted meal at which all possible Bukovinian grill specialties were on the menu.
Since evening had not yet descended we still had time to tour the Voronet monastery, one of about thirty churches and monasteries constructed between 1487-1504 throughout Bukovina and Moldavia under Stephen the Great. Recognized by the United Nations as 'wonders of the world,' the monasteries of Arbore, Humor, Moldovita, Putna, Sucevita, and Voronet have the unique feature of frescoes painted on their outside walls. Although occasionally restored, the paintings have stood up remarkably well over the centuries. Each monastery can be identified by a dominant color: in Voronet it is the color blue.
The next morning we first visited the weekly outdoor market on the outskirts of Gura Humorului where we had an excellent opportunity to experience the Bukovina scene. The picturesque market presents a view, which one has not seen in central Europe for decades. Aside from feed, salt, horses, hogs, and other animals, one also sees wooden bowls, harnesses, and fur caps for sale. Returning to downtown Gura Humorului, we stopped at an indoor-outdoor marketplace wherein the temptingly displayed vegetables, fruits and cheeses in the market hall looked especially appetizing.
Our fellow traveler Mitzi Bursan and I paid a brief visit to the barber, which was possible without knowledge of Romanian.Thanks to Mitzi and Roland we had no problems with language during our entire visit. The older people who still speak German are few and far between. Although some members of the younger generation know English, we found only a small number. It is decidedly helpful to be accompanied by someone with fluency in Romanian when visiting Bukovina.
We then proceeded to the renovated Catholic church on Gura Humorului's main street where we saw a black tablet inscribed with the name "Emperor Francis Joseph I" reminiscent of Bukovina's Austrian period. It was here that Roland had served as an altar boy in his youth. We then visited the cemetery. In Gura Humorului, a town of about 15,000 people, we encountered much construction in progress as well as traffic-congested streets. Of all the buildings we saw, the old town hall gleaming in Habsburg yellow is perhaps the most compelling. Taking advantage of the nice weather and in order to work up an appetite for dinner, we walked on a bit further to the mountain called Gündl.
To our right and left we saw men and women mowing hay with their scythes. Below us the Humor River meandered along and we could view the town in its entirely. Above the Humor River lies Gura Humorului's Jewish cemetery with the Chris-tian burial ground located in another part of the town. Upon our return to the Corelaru boarding house we passed the Brünnl, i.e., a well (German: Brunnen), which provides water all year round.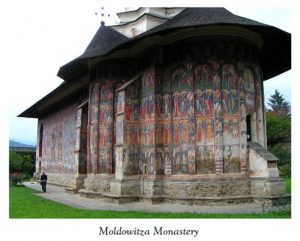 On Wednesday morning we were picked up by a four-wheel drive vehicle. It would have been impossible for a normal motor vehicle to convey us to the Rarau, not the highest but nonetheless the most famous mountain in Bukovina, which has been immortalized by numerous myths and legends. Even during our visit the weather was such that we would not have been surprised to see the eighteenth century semi legendary thief Dobus around the next curve of the road or path. In this out-of-the-way and sparsely populated section of Bukovina one can well understand that Bukovina is a paradise for hunter and fisherman alike.
En route to the Moldovita monastery we made a stopover at Jadova. One of my distant relatives, the author Dragos Vicol,has a summerhouse there. Today this house contains a small museum. Unfortunately no one was at home.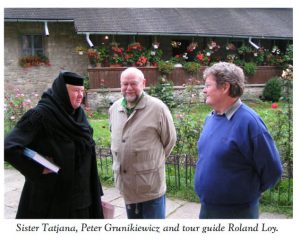 At Moldovita we were expected for lunch, which our host Vasile had arranged for us. Since this day was an Eastern Orthodox Church holiday, no meat was served, which did not detract from the meal in any way. The monastery also takes in tourists. Sister Tatiana, who had studied in Regensburg and speaks excellent German, provided a very detailed guided tour of the monastery, the dominant color of which is yellow.
The next day the four-wheel drive vehicle again picked us up.Our good host Vasile had organized a day at a stâna (mountain pasture with facilities for processing dairy products typical of the Romanian Carpathians) for us. Above Frasin we had a marvelous view of the entire valley. With the best vitals and ample tzuika (a traditional Romanian alcoholic beverage usually made from plums) we could only reaffirm that God is good.
A visit to Suceava and research in its archival collection was on Friday's program. At noon we looked up Codrin Grunichevici, one of my distant relatives, who invited us to spend the afternoon with him in Ilisesti. It was about twenty ears ago that we last saw each other and now vowed to maintain future contact.
After our Saturday trip to sunny Czernowitz, Sunday greeted us with torrents of rain. And this was precisely the day we had set aside to fulfill one of our more important objectives: visits to Arbora, Cacica, Clit, Marginea, Radauti, Solca, Voevodeasa,and Volovat, the villages of our forebears.
In Radauti, famous in the Austrian era for its stud farm, we met Eduard Mohr, the presiding officer of the German Forum. Among other services, the German Forum provides material assistance to Germans in Bukovina. The visit to the cemetery which followed, as well as the stroll through the streets of Radauti, proved to be short given the poor weather conditions.
The rain seemed to follow us to Voevodeasa, Marginea and Volovat. In Voevodeasa we had a memorable experience. After we stopped at a house to ask for directions, the gentleman who answered the door invited us in and treated us royally. The warmth in the room and the warmth in his heart fared us well,a sentiment also reflected during a visit with his mother. Such hospitality as extended to us by the Zaremba family is no longer customary in central Europe. Nor are Mr. Zaremba's attributes limited to hospitality. We were impressed to learn that it was he who at his own expense oversaw the restoration of the Catholic church, which had fallen into a state of disrepair after the exodus of the Germans in 1940.
The day ended with a short photo stop in Solca and a longer pause in Cacica. With so many beautiful churches in Bukovina, Cacica remains the spiritual center for the Catholic population.Until relatively recent times thousands of pilgrims walked,some barefooted, from their villages to Cacica on August 15,the Feast Day of the Assumption. Cacica is also known for its saline springs, which to this day continue to provide the region with its salt needs.
Before our departure on Tuesday we made some purchases at the Gura Humorului market. In addition we received numerous gifts from our hosts including painted eggs, an embroidered tablecloth, tzuika, and other foods. Generously provisioned by Viorica and Vasile, we packed our auto to the brim and set off for home at about noon. In Rona de Jos we stayed in the same boarding house as on our first night in Romania.
The weather the next morning boded ill with a dense fog making it difficult to make time on the road. But the good streets and clear skies over Hungary permitted us to compensate for time lost. Again the sun shone over Budapest and accompanied us to our return to Ulm.
Our trip lasted for ten days during which we saw and experienced more than we could ever have anticipated. But it has become evident to us that it will take many more ten-day visits just to pursue our genealogical objectives. For nature lovers and for people interested in cultural matters Bukovina remains a meaningful tourist attraction to which must be added the memorable experiences in the realm of human relations.