By Peter Grunikiewicz (Büsnau/Stuttgart, Germany)
Published by the author in the Bukovina Society of the Americas Newsletter,
Vol. 18, No.4, December, 2008
---
In early October of 2008 my friend Michael Augustin and I undertook a ten-day journey to southern Bukovina about which we would here like to report. In that our adventures and impressions were very multifaceted, we decided to divide our essay into four distinct sections, beginning with a discussion of how the trip came about and how it progressed.This includes a detailed account of our participation in the sexcentennial celebrations in the city of Czernowitz on October 4, which, incidentally, had been the original motivational trigger for our trip. The second section will emphasize our research experiences in the Suceava archive. Two additional sections will be published in the next issue of the Newsletter, the first delineating the tourist highlights of our trip and the last describing our visits to the cemeteries of the former German communities.
It all began in the autumn of 2007 with a discussion with Mrs. Gertrud Romberger (the Cultural Advisor of the Baden-Württemberg branch of the Landsmannschaft of the Bukovina Germans). She mentioned that the Landsmannschaft would like to hold its 2008 convention in Czernowitz. The occasion was the celebration of the sexcentennial of the first citation of the city in an official document. Mrs. Romberger wished to ascertain if there would be sufficient interest in organizing a bus trip from Büsnau.
By February 2008 it was already clear that a bus trip from Büsnau would not take place. An article in the March 20 issue of Der Südostdeutsche announced that the yearly meeting of the Landsmannschaft would not be held in Germany during Pentecost as usual but rather in early October in Czernowitz in collaboration with the "First World Forum of Bukovinians." I decided to jump at the chance and saw this as an opportunity for an extended visit to Bukovina. In 1984 I had already been to Bukovina with my sister, brother-in-law, uncle, and one of my brothers, at that time mainly for a family visit. In 2005 I again had an opportunity to travel to southern and northern Bukovina with the Landsmannschaft.
In the meantime I sought to interest Michael, who had never been to Bukovina, to undertake the trip. My next step was to make contact with the Bavarian branch of the Landsmannschaft, where I attended a meeting at which the journey was discussed. But it soon became evident that the objectives of this group were not clearly formulated and that it was doubtful if a definite date for the visit would be set.Since our interests were much greater in visiting southern rather than northern Bukovina, Michael and I explored another approach. Sophie Welisch (Congers, NY) had several times mentioned to Michael that her cousin, Roland Loy, who lives in Germany, travels to Suceava several times a year and would gladly take along people for whom he also arranges tours in Romania. Roland, whose parents were among the Bukovina Germans resettled to Germany in 1940, was born in Scheifling, Austria, the following year. In 1945 he, along with his mother and three siblings, were repatriated to Bukovina. Until his immigration to Germany in 1978 Roland lived in Gura Humorului to which he regularly returns as a visitor. Knowledge of the Romanian language and of the area presented no problems in addition to which Roland showed a great flexibility and a spontaneous enthusiasm for our travel plans and for our great interest in Bukovina.
Timewise we organized our itinerary according to the program of the World Forum provided to us by Mr. Luzian Geier, Director of the Bukovina Institute in Augsburg. We scheduled our trip to Bukovina for September 28-29 and our return for October 7-8. At our first preparatory session with Roland in Ulm we were quickly able to reach a meeting of the minds about the remaining details. As our permanent quarters in Bukovina Roland suggested a boardinghouse in Gura Humorului from which we might undertake all our side trips. In Ulm we also met our fourth fellow traveler, Maria"Mitzi" Bursan. She was born in Czernowitz, and – like Roland – resettled in Germany in 1940 only to be repatriated to Romania after the war with never an opportunity again to visit the city of her birth. In 1985 she immigrated to Germany with her husband and has lived in Ulm ever since. Mitzi has often accompanied Roland on his trips and now, after sixty years, wished to see the city in which she had spent the first years of her life. Although the "First World Forum of Bukovinians" was officially cancelled due flood damages during the summer months, we remained undeterred in our resolve. Our travel plans were set in stone.Instead of the originally scheduled two days, we cut our visit to Czernowitz down to one. Surely there would be some jubilee celebrations!
All went according to plan; we drove to Gura Humorului and spent the first week sightseeing, to be described in the next issue of the Newsletter.
The visit to Bukovina's former capital of Czernowitz was on the agenda for Saturday, October 4. We departed Gura Humorului at 8:00 a.m. under an overcast sky. After an hour we reached Ukrainian territory. The boarder crossing guards were polite but the process cost us almost one hour of waiting time. Eventually the sky brightened and the nearer we came to Czernowitz, the better our frame of mind.
There was relatively little traffic on the well-constructed street from the border to Czernowitz, and it struck us that there were no horse-drawn carts to be seen. After we had already passed the first larger houses of Czernowitz, we had to continue on without our vehicle. On this Saturday the inner city of Czernowitz had been declared a pedestrian zone with only taxis and buses permitted entry. However, since on this day the free-fare buses were already arriving at the bus stops overfilled with passengers and most of the taxis were also fully occupied, we decided to walk the two kilometers to the center of Czernowitz. People of all ages, well dressed and in good humor, were streaming into the city.
And Czernowitz received its guests under blue skies and with newly paved roads and freshly painted houses. An exuberance had overtaken the whole city and marriages were being sealed in the public registry office. Magnificently decorated automobiles were surpassed by still more magnificently attired brides. It seemed apparent that the city's entire population was in a festive mood.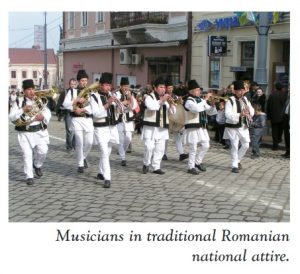 At the far end of Ring Plaza (the central area in front of town hall) a large stage had been set up with numerous screens for video presentations in front of which for over an hour all possible groups and dignitaries passed in review. As the unending parade passed by the stage,they saluted the high-ranking representatives of the state and the community. Since the gigantic crowd made it impossible for us to approach the stage no closer than thirty meters at best, and since in addition we did not understand Ukrainian, we could only glean visual impressions projected onto the large screens. In the afternoon there were folklore presentations on the stage after which individual groups sang and danced in the streets.
At the perimeter of Ring Plaza there were stands and a display with all sorts of breads, cakes, pastries and sundry baked goods. At Theater Plaza we saw a floral exhibit and everywhere there were stages on which various musical groups performed. And naturally there were also large numbers of stands offering food and beverages, which found widespread favor.
To the right and left on Herrengasse (today Kobyanskaia) a strip of black granite had been set into the street pavement with "Czernowitz" engraved in six different languages. The German House also shone forth in new splendor. Unfortunately the renovation of the interior was not yet completely finished, so that we could not enter. For Western tourists orientation has been simplified in that the street names are not only in Cyrillic but also in Latin letters. Since we were beginning to tire a bit, we sought refreshment in the Café Vienna where we indulged in a cup of coffee and a piece of the very prolific assortment of cakes and pastries.
Toward evening dance music was scheduled in all the larger sections of the city. Unfortunately we could not participate in this entertainment, since we did not want to drive to our quarters after dark. As we had come, so we again returned to our auto, passing the Volksgarten (People's Garden) and the Hotel Bukovina. Czernowitz is a city worth seeing and much too complex for one day only. To be sure this will not be our last visit.
We had a lot on which to reflect during the return ride to Gura Humorului: the folklore groups which danced through the streets, the festively dressed people, the noticeably large number of young folk, and finally the uplifting spirit of Czernowitz. On that day Mitzi had good cause to be proud of the city of her birth.