By Larry B. Bell
Published by the author in the Bukovina Society of the Americas Newsletter,
Vol. 26, No.3 September, 2016
---
June 13
Four of us, two cousins and their spouses, drove from Sibiu to Gura Humorului over the Transrarau Pass, a spectacular introduction to Bukovina. The mountaintop was cloudy and misty, but very beautiful. The road is smooth and easy to drive, with many parking spots to stop and take pictures. People do drive it both ways, but it is only single lane from Chiril to the top. Double lane goes from the top down to Pojorata. We checked into La Roata and stayed in Zenobia cottage, a log cabin type structure with traditional features, yet modern conveniences such as Internet and a bathroom. We loved the historic ambiance and enjoyed meeting other travelers at mealtime.
June 14
We went to Radauţi, Romania, the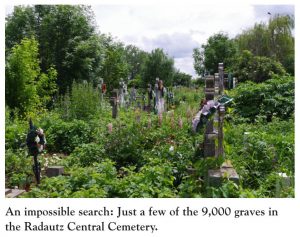 birthplace of Grandma Stephanie Gaydosch, according to her vital records. We found the Lutheran church where she was baptized and confirmed. It is now Saint Demetrius Romanian Orthodox Church.
We then went to Central Radauţi cemetery, which is stuffed full in no apparent order. My theory is that the older concrete monuments of the wealthy were left standing and new graves were built over the poorly marked poorer graves. The older graves are very overgrown. The well-tended graves in between are from 1970 or later. Even with four people searching, it seemed like an impossible quest, so we gave up after a couple of hours.
Later I discovered that the 9,000 graves in this cemetery are posted on billiongraves.com but have not been transcribed. More work for someone on a cold winter's night.
June 15
This was a great day.
We drove to Pojorata, the birthplace of Stephanie's father Gottfried in 1850. Our first stop was the Information office. I explained our quest and asked for the location of the church and cemetery. The official asked for our family name and told us there is a Gaydosch living here in town. Much rejoicing all around.
We went first to the church, which is quite neglected, but clearly Evangelical with "A Mighty Fortress is Our God" inscribed over the entrance. We then drove to the cemetery, which had lots of room between the markers, but was difficult to navigate because of the mountainous terrain. There were many German stones mixed in with Romanian—and there it was—the Gaydosch family plot.
After pictures and congratulations, we went to find Harry Gaydosch. We knocked on a door. The older man who answered tried to tell us in Romanian where Harry lived. We didn't understand, so he hopped on his bike and led the way as we followed in the car.
Harry was home and spoke German, so we had a delightful visit sitting at his picnic table next to the garden. He brought out family documents dating back to the birth of his grandfather in 1902.
I am pretty confident that Harry is a cousin. The Gaydosch family came to Pojorata from Zips County, Slovakia around 1810. Our direct ancestors moved to Radauţi around 1860 when the copper mine went bankrupt, but other cousins apparently stayed behind.
Most Germans have moved back to Germany. Harry remembers when 600 Germans lived in Pojorata. Today there are ten. We are very fortunate that he was one of the ten.
Today was a day when everything came together. We had done our homework and simply placed ourselves in a position where serendipity could happen. We really did not expect to find anyone, but are delighted with the outcome. We closed out the day with a drive to the top of the Transrarau Pass, which was more enjoyable the second time with clear skies and expansive mountain views.
June 16
Although difficult to find, the Bukovina Village Museum in Suceava was a good way to picture village life. It is an active and popular museum designed as a self-guided, interactive walk through a village of relocated buildings from the late 19th-early 20th centuries. Everything is open and available for perusal, with good multi-lingual descriptions at each site, including a mill, a blacksmith shop, several houses, and a church. Certain stops had audio recordings and dummies dramatizing a marriage, a funeral, church service, and a mother singing her baby to sleep. It was easy to imagine our family living in such a place.
June 17
Today we left Gura Humorului for MaramureŞ. Tomorrow we will continue on to Spiš County, Slovakia.
We stopped in Iakobeny to visit with Irma Gaydosch, the matriarch of the Gaydosch family. After some hunting, we finally found her. She was expecting us and invited us in for coffee. Her house reminded me of my grandmother's house in rural New York in the fifties, with a wood burning stove, giving heat even in the summer, and wooden painted cabinets in strong but muted colors. She spoke perfect German and told us the story of her life. She spent the war in a holding camp in Poland.
From Iakobeny, we took the slow route over Prislop Pass, another hair-raising, fun and scenic route through the mountains. Between the potholes, the hairpin curves, and the lack of guardrails, we could only travel 30-50 km/hour. But it was worth it. The road improved after Moisei when Route 17C joined 18.
We had never been to Romania and did not know what to expect, but we enjoyed it immensely. We loved the mountains and the hospitality of the people. Connecting with family was incredibly enriching. Slovakia was dramatically different from Bukovina. In both places it was haying season, but in Bukovina the work was done with pitchfork and scythe, horse and wagon. To the west, farming was done with modern machinery and workers were rarely seen in the fields. Also, the narrow roads in Bukovina were shared by bicycles, horse drawn wagons, pedestrians, cars, trucks, and vendors selling mushrooms and berries. In the west, there are super highways.