By Michael Augustin
Published by the author in the Bukovina Society of the Americas Newsletter,
Vol. 26, No.2 July, 2016
---
In early May of this year, exactly three years after our last trip, my friend, Peter Grunikiewicz and I revisited Bukovina for one week. This was already our third common trip to the land of our forebears. The best offer time- and moneywise, that we could find, was to fly from Munich directly to Iasi, the old cultural capital of Romania, located about 150 kilometers southeast of Suczeava. The flight with the Romanian airline TAROM was very pleasant, lasting less than two hours with a round trip costing less than 200 Euro.
Our last visit to Iasi was so memorable that this time we planned to spend again two overnights there. Our preparations for this trip had dragged on a while, since it took time to find a tour guide who speaks German. Finally my Romanian relatives in Solka (the paternal descendants of my grandmother's brother still live there) recommended Romus "Romi" Rizac. Romi, who lives in Suczava, has Austrian citizenship and speaks German very well. Engaging a local and linguistically competent tour guide again proved successful. Anyone planning such a trip and who knows nothing about the language of the land would be well advised to do likewise.
As per our agreement, Romi picked us up at noon on Sunday. On the way to Suczeava we toured the convents of Probota and RâŞca. In comparison with the famed convents of Sucevita, Voronet or Moldovita lays Probota very much out of the way and is therefore also less known but nonetheless beautiful. Any interested person can even find accommodations and spend a few days there in the peace and isolation of the convent.
Unfortunately the Rhapsodia boarding house, where we had booked accommodations for our stay in Suczeava, cancelled our reservations rather abruptly. On very short notice we now had to find another place so stay. Although it got not only positive comments on the Internet, we opted for the Hotel Gloria. As other guests had also noted, it still had some of the old socialistic charm. The hotel's greatest advantage is undoubtedly its quiet atmosphere despite its location in the center of the city. The rooms are spacious, furnished simply, and in our case, they were clean. The personnel demonstrated friendliness but hardly spoke English or German. Nonetheless, the service was good. It would be advisable however, not to eat breakfast in the hotel's restaurant but rather in the Café Salzburg directly across the street.
In that the weather on Monday was not so good, we spent this day in the national archives photocopying the church records. Since our last visit, this facility has been relocated, so that the distance between the Hotal Gloria to the archive is now one kilometer rather than half a kilometer as before. The employees in the archive recognized us and supported our efforts to the best of their abilities. The bureaucratic expenses however, until we could get started, have not decreased. Our permits for the archive had expired and had to be renewed and for every day we had to get renewed permission to photocopy the materials in their archives. This required each time a walk to the bank (!) where we had to transfer 7 lei (less than USD 2) per day and person. Finally for every church book we wanted to consult, we had to fill out three different forms. So it is not surprising that we – despite our good preparation and reasonable knowledge of exactly what we wanted – could only begin our work after about one and a half hour. That day and the following Wednesday we photocopied a total of almost 4,000 pages relevant to our research.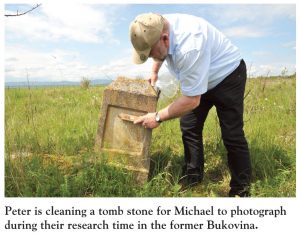 The other two days – Tuesday and Thursday – we toured cemeteries, churches and convents in Alt-Fratautz, Wolowetz, Fürstenthal, Sucevita, Solka, Glitt and Radautz. In Mardzina we went to the weekly market, which is always a new experience. The weather was good and the landscape at this time of the year was simply splendid! We were invited to spend every evening but one either with my relatives or with our driver. Only he who knows the hospitality in Bukovina can envision how much we ate, drank and celebrated. Of the many nice things we experienced in those two days, I wish to relate only two:
Josef Augustin of Mardzina, a first cousin of my grandfather Franz, immigrated to Canada in 1929. We know that his family had a beer stand on the street in Mardina leading to Fürstenthal. Early last year Josef's granddaughter, Leah (Augustin) Duda of Oregon, unsuccessfully attempted to find this house. With the help of our driver we were indeed able to locate it. The house had been renovated and was therefore not recognizable as the former guesthouse. As proof the owners showed us an old photograph of the house and the former beer cellar. Since simple houses at that time had no such cellars, we were certain that it was indeed the house in which Leah's grandfather had lived before he went to Canada.
Furthermore, our visit to the former German cemetery in Alt-Fratautz (Fratautii Veche) should be noted. This lies about 300 meters from the western end of the village and south of street 178F leading to Hurjuieni, in the midst of the fields. From a distance it is easy not to recognize it. The ca. 200 meter-long strip is today so overgrown with vegetation that one can get to rear sections only if one were to walk through the adjoining fields. After cleaning off the some gravestones as best we could, we photographed those with legible inscriptions. Next to this old cemetery there is a smaller, newer and apparently not clearly identifiable religious community (the Adventists?) and also easily recognizable in aerial photographs.
Our plans based on our excursion to the district in today's Ukraine now had to be revised in that we found a newly constructed boundary crossing in Ober-Wikow, which, however, had not yet been opened, since the Ukrainian side has not completed work on its side. Thus there remains, at least in our view, still much to be learned and explored.