Min Steininger
Oldest active member of St. John United Church of Christ
By Kathy Millen, STAFF WRITER
Posted  with permission of the author and the Naperville Sun , January 1, 2005.
---
Min Hamann Steininger, a life member of the Bukovina Society of the Americas, recently celebrated her 95th birthday. The event was featured in the Naperville [Illinois] Sun on December 27, 2004. Min (Wilhelmina) was born in Mitoka-Dragomirna, Bukovina in 1909 and with her family, immigrated to Naperville in early 1910.
---
In the late spring of 1920, Karl Hamann and his three young daughters walked a few blocks from their home on Franklin Avenue to west Van Buren Avenue and stood in front of the small wooden church built in 1845, then known as St. John Evangelical and Reform Church.
Speaking in German, the Hamann's native tongue, Karl said to the girls, "This is your church."
Since that day, Wilhelmina Hamann Steininger has built her life around that church, now St. John United Church of Christ. She is the oldest active member of the congregation and carries with her memories of those long-ago days in Sunday school, her 1923 confirmation and the requisite seating of women on the right of the church and men on the left. Sunday services were alternately held in German and English. Even today, the church holds a German service once a month.
Having witnessed such a large part in the history of St. John's, it was only fitting that she celebrated her 95th birthday party Dec. 19 at the church, located at 1190 Olesen Drive since the early 1970s.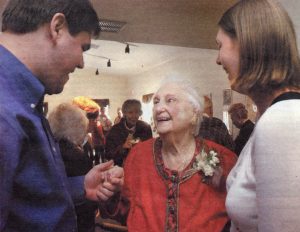 Born on Dec. 16, 1909, Steininger, her parents and great-grandmother came to Naperville from Austria in early 1910 to help her widowed uncle, Fred Hodel, raise his six children. The Hamanns moved into an apartment upstairs in the old Stenger Brewery on Franklin Avenue between Main and Webster streets. Karl Hamann got a job at Kroehler Manufacturing to support his wife, Amalia, and their family, which grew to include two more daughters within the next few years. He stayed behind to work when his wife took the children back to Austria in 1914 to visit relatives.
They planned to stay for a short time, but while there, World War I broke out. Stranded in Austria, Amalia and the girls would not return to Naperville for six years. That joyful reunion came in May of 1920. Karl Hamann welcomed his family home to a new house he bought on the northwest corner of Webster Street and Franklin Avenue.
Nine-year-old Min Hamann settled back into life in Naperville. The German-speaking girl was enrolled in Naper Academy, where one of the teachers taught her English after school. After that, she excelled in her classes, completing six grades in four years. Her formal education ended in the sixth grade when her mother became ill in 1924. Not yet 15, Steininger got a job at the Kroehler Manufacturing Co. to help support the family.
She married Willard Steininger in 1934 and, a year later, gave birth to their first son, Kenneth. Her second son, Karl, was born 10 years later. The family settled in a little house on Van Buren Avenue, just east of Eagle Street. In the mid 1950s, the home was torn down and a new single-story house built in its place. Steininger still lives there today.
After her mother died in 1954, she cared for her diabetic father until his death two years later. She credits her own longevity to a Biblical passage promising a long life on earth to those who honor their father and their mother.
The foundation of her life, she said, has been her religion and hard work. Always active in her church, she was a member of its Ladies Aid group, sang in its choir and worked with its youth. She also is a member of Church Women United and a volunteer with a group that makes quilts for babies and the elderly.
Her husband died in 1971 after 37 years of marriage. He was the last person to be buried out of the old St. John's Church building, she said, before the congregation moved to the building on Olesen Drive.
She worked off and on for Kroehler for 25 years, ending her career there as an inspector. In addition to her two sons, Steininger has two grandchildren and four great-grandchildren.
1. What makes Naperville feel like home to you?
I don't care where you go in this whole wide world, it's where you were born and spent your childhood that's going to be closest to your heart, no matter how much money, how much travel, no matter what.
2. You said you didn't have the chance to get to know your grandchildren as well as you would have liked because they live in different states. How do you relate to your great-grandchildren?
You've got to hold them. You've got to hug them in order to really get to know them. God is teaching me and my great-grandchildren what love is all about and a good hug is worth an awful lot. When they put their arms around you like a cold fish, forget it. But when they give you (a hug) that hurts, that's when you know they love you.
3. What words of wisdom have you tried to follow throughout your life?
Treat everybody like you want to be treated.
4. Besides the Bible, what else do you enjoy reading?
Anything that will teach me a lesson or will make me learn something. I feel so bad because I got so old and now I can't get around and see so good anymore. I'm not able to be more active in what's going on.
5. What do you like to show visitors when they come to town?
I did like to take them for a ride through Naperville and (show them) what a beautiful, clean town it is and, the most important thing, I take them to the (SS Peter and Paul) Catholic church to see that old church. We have so many churches and everything and Saints Peter and Paul is the church. I was proud of ours, too. We had many spits and spats on how to run it and everything, but no matter how poor we were or in debt we were, there's that spirit that we're not going to give up. We're going to win. And it comes out. Somehow or other, the bucket gets filled again.