Bukovina Germans help trace heritage
Chance encounter leads to information on woman's family
By LAURIE MCEWEN
Hays Daily News
Posted with permission of the Hays Daily News, Hays, KS
April 25, 2002
---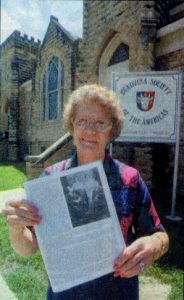 When Yuma, Colo., resident Elva Hillman attended the Bukovinafest in Ellis this weekend, she wanted to learn more about her Bukovina German heritage. Elva Hillman, Yuma, Colo., came to her first Bukavinafest. She hit a gold mine of genealogical data and found a picture of her mother in one of the Bukovina publications. What she found was a picture of her mother in a book on Bukovina Germans, a picture that ultimately led her to some long lost relatives.
Hillman knew that when her mother, Bertha (Hackl) Korf was 24, she traveled to Yuma from Bukovina. Her mother's friends and relatives traveled to Ellis, while she stayed in Yuma to work and eventually married. While that was all Hillman really knew about her Bukovina heritage, Hillman was no stranger to Ellis. She'd been to there many times to visit friends of the family.
But on this particular trip to the comfortable railroad town, Hillman also wanted to attend the Bukovinafest, "never thinking about what was going to take place," she said.
It happened on Friday when she met Illinois resident Werner Zoglauer, who was searching the Internet for rela­tives of Bukovina Germans. She asked him to do a search for her on her mother's maiden name and found out she had many relatives in the Ellis area.
"I was kind of neat because I didn't know any of mom's relatives, although I did get in touch with a nephew 10 years ago," she said.
But Hillman said an even stranger event took place when she purchased a book on the Bukovina Germans. As she thumbed through the pages, she saw a picture of her mother standing with another woman and two men.
"And I said, `Oh, that's my Mom.' I had seen that (picture) years and years ago. I was so excited I could hardly even nibble (dinner), and that's unusual for me with food," she said. Hillman wiped a tear from her eye as she recounted the story, adding that the circumstance has motivated her and her husband, Freddie, to plan a trip to Germany soon. Meanwhile, she said with a smile as she mingled with others, "I've got to see who else we're related to."
---
Bukovina Ancestors:
Albertina "Wenzerl-Berta" Korf geb. Hackl, *1896, Pojana Mikuli – +1986 Yuma
Maria Korf geb. Landauer, *1883, Lichtenberg – +1954, Yuma
Johann Landauer, *1836, Lichtenberg – +~1888, USA
Katharina Landauer geb. Hackl, *1842 –  +1920, Yuma