Waldschmidt helps a Dreiling
Guy Windholz
Posted July 30, 2023
---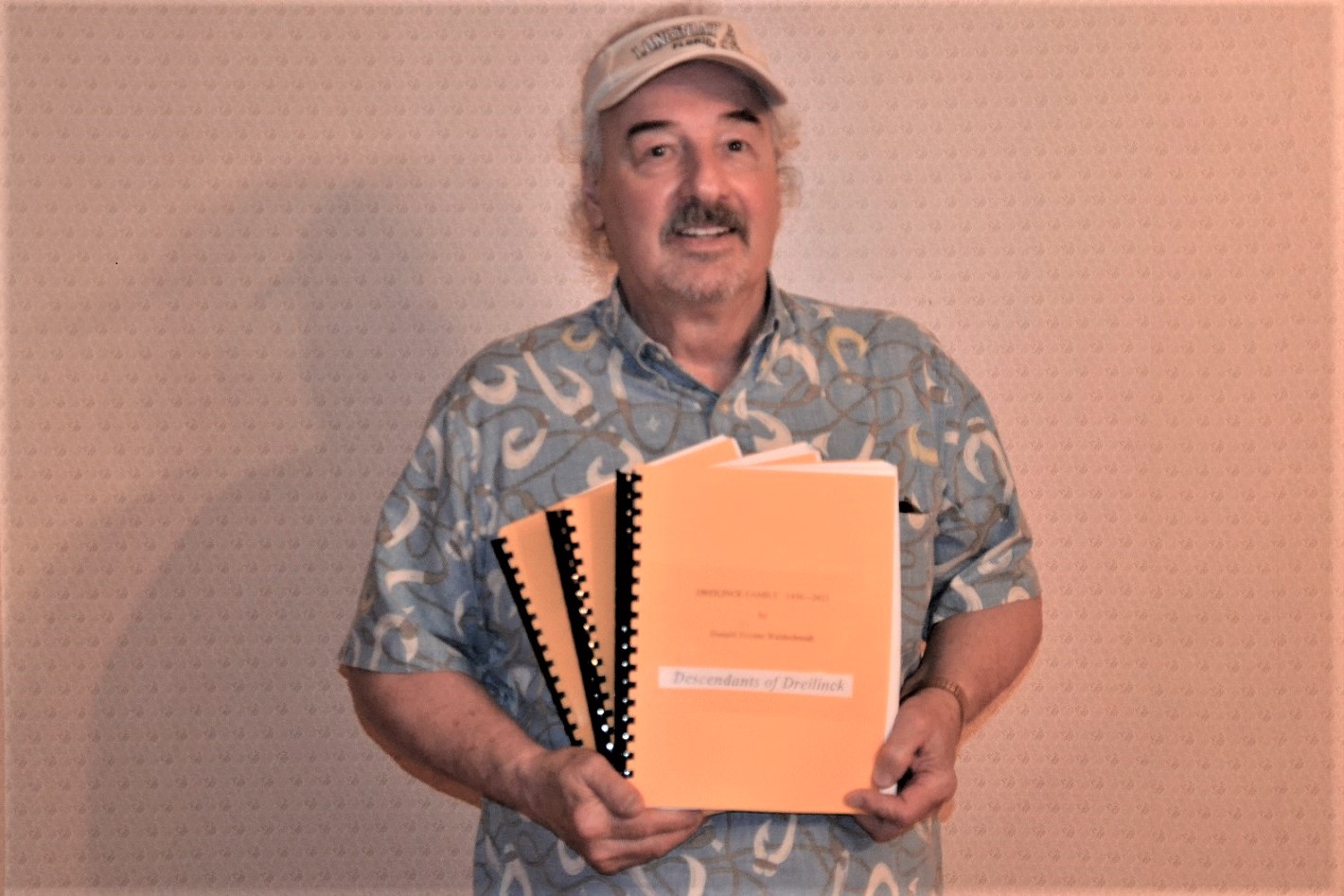 It had been several months since long time friend and high school classmate Mark Dreiling was able to meet for a visit and receive a set of some very interesting family tree books related to the ancestry of Dreilinck of which the name spelling has come to be Dreiling. Mark is the son of the late Norbert Dreiling and he also spent time here with his mother Donna Jean on this stop over before returning home to Denver.
Enter this picture with Donald J. Waldschmidt of Hays who compiled the printing of the Dreilinck tree from the first documented start in 1438 to 2023. With the inclusion of an index it numbers 1400 pages. Waldschmidt's interest in Volga German family trees spans over 40 years and unknown to him in the early years learned that the local Bukovina Society , founded in 1988, located in Ellis, Kansas had a good number of members diving deep into their own immigration documentations being published.
They both had a lot in common and Waldscmidtt began doing family tree books focusing on Volga Germans. He has been able to expand his collections of materials over the years that include both Volga Germans and Bukovina Germans for which happened by marriages with each other. Knowing Waldschmidt since 2015 his collections include more than 700 families kept in three-ring binders many that take up more room than the larger binders sold on the market requiring more than one binder.
His source came by way of the Bukovina Society when learning of an international figure named Dr. Igor Pleve. Pleve served ten years as head of the International Association for the researchers of history and culture of Russian Germans. Dr. Pleve's grandmother, Agatha (Agda) Kasparovna Gerstner, was born in the colony of Marienthal, Russia from where some families immgrated to the United States and some settling in Ellis County, Kansas. Further information discovered was his being harassed by the Russian government over time. One interesting footnote in reading about Pleve reveals that his grandmother was deported to Siberia in 1941.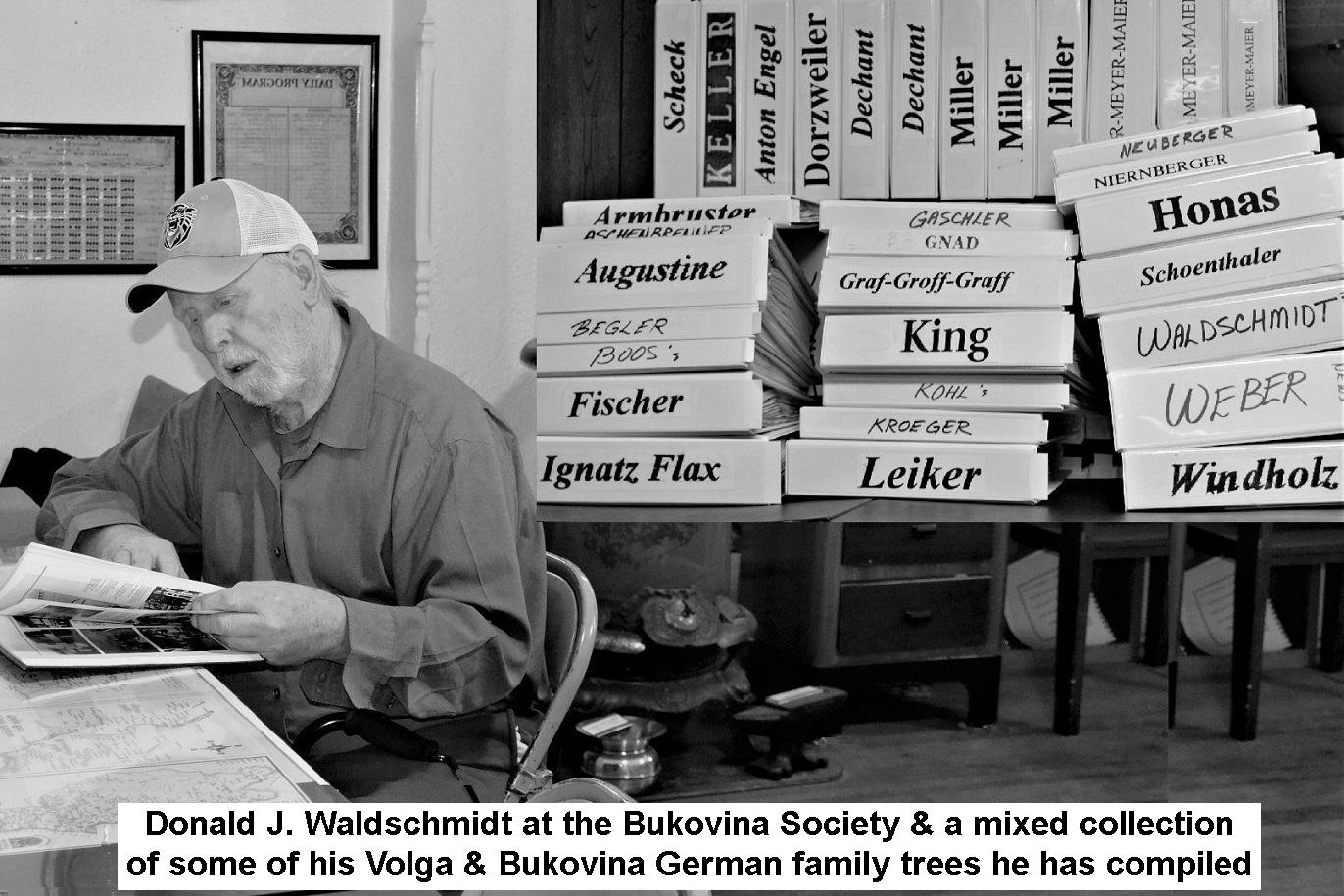 The central point of this story was in asking Waldschmidt why he did the Dreiling tree? He said, "Bob Glassman, having a professional legal association with Norbert Dreiling and some interconnections of marriages among their families in the area, paid me to compile the family trees on both the Glassmans & Dreilings." While talking this week to Susan Schlichting an ancestral researcher friend that belongs to the Bukovina Society I inquired if she had done research on Volga Germans? She replied, " I got my introduction to Volga German research when I lived in South Dakota. Several friends were doing that work and I got to help them with interpreting German records." At one time she had called Elaine Pfannenstiel of Hays for some similar information used later on by teaching family history research to a group of teenagers at an all day 4-H gathering. She is also active with persons that visit the Kansas Room of the Hays Public Library on Thursday mornings.
It is always a pleasure to socialize with those that have skills and abilities to help in getting and putting information together that expands our knowledge.
This indeed was a good week for learning and it should never stop from continuing on in our lives.
---
Volga German Ancestors:
Alois Dreiling, *1834, Volga – +1882, Victoria
Anton Alois Dreiling, *1873, Herzog – +1918, Victoria
Katharine Dreiling geb.Linenberger,  *1876, Herzog – +1953, Victoria
Katharine Dreiling geb.Rohleder,  *1836, Volga – +1921, Ellis
Margaret Dreiling geb. Schamne, *1842, Herzog – +1889, Victoria
Jakob Eichman, *1864, Saratov – +1946, Russell
Elisabeth Eichman geb. Schröder, *1874, Volga – +1928, Russell
Pauline Kisner geb. Schwalie, *1897, Volga – +1946, Hays
Barbara Kissner geb. Dechant, *1874, Volga – +1918, Hays
Peter Johann Kissner, *1856, Volga – +1939, Hays
Josef Linenberger, *1838, Volga – +1911, Victoria
Georg Schwalie, *1863, Volga – +1935, Saint Marys
Margaret Schwalie geb. Homann, *1865, Volga – +1927, Saint Marys
Adliade Waldschmidt geb. Seib, *1863, Obermunjor – +1936, Ellis
Anna Elizabeth Waldschmidt geb. Kessler, *1885, Volga – +1956, Ellis
Johann Waldschmidt, *1885, Obermunjor – +1957, Hays
Josef Waldschmidt, *1865, Volga – +1935, Hays
Kansas Ancestors:
Amalia Mary "Mollie" Dreiling geb. Eichman, *1901, Russell – +1972, Hays
Norbert Richard Dreiling, *1925, Gorham – +2005, Hays
Richard A. Dreiling, *1901, Victoria – +1995, Hays
Alexander Kisner, *1895, Pfeifer – +1976, Hays
Leo Allen Myerly, *1893, Collyer – +1962, Wakeeney
Lois Amelia Myerly geb. Drummond,  *1897, Wakeeney – +1975, Hays
Barbara R. Waldschmidt geb. Kisner,  *1920, Hays – +1983, Hays
Peter Conrad Waldschmidt, *1913, Garden City – +1952, Ellis