Olathe Couple Visits Bukovina Society
Guy Windholz
Posted July 15, 2022
---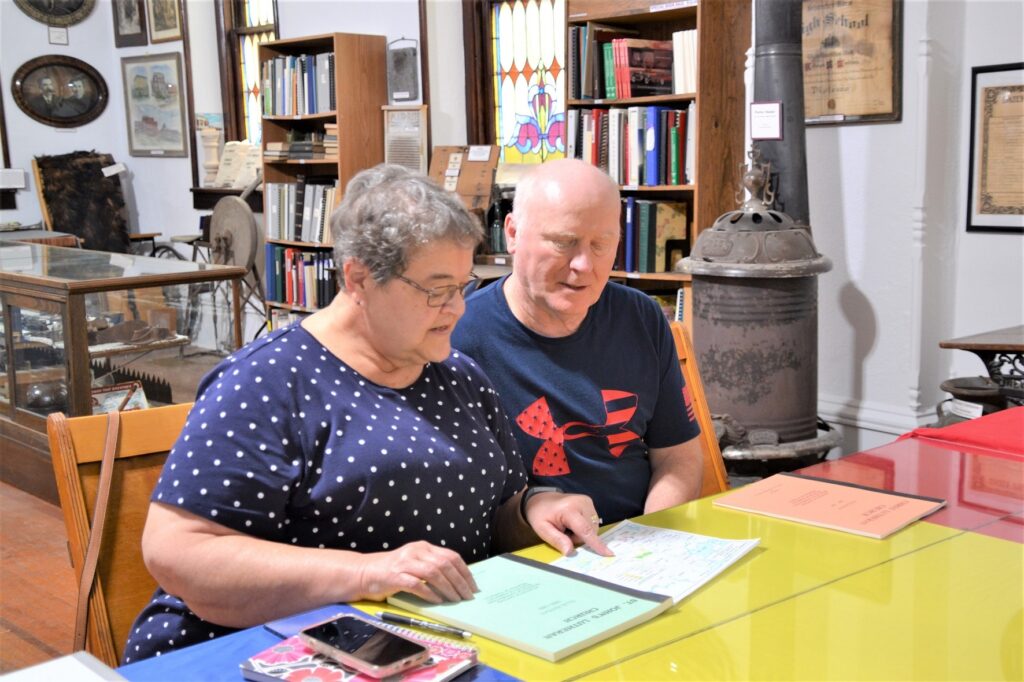 The benefit of having an organizations web site is bringing attention to families and researchers to our door steps. Karla (Walz) Lovell and husband Claude from Olathe, Kansas visited the Bukovina Society headquarters in Ellis, Kansas through email on our website. Karla was aware of the Society before from her mother, Marguerite Walz (deceased) who is a former member and had attended conventions many years earlier with her niece, Edith Clark, both from Oakley, Kansas. Marguerite and Edith have worked on genealogy of the Konig and Walz families in coordination with Brenda Walz from Ellis, Kansas.
Karla has traced her ancestors back to Christian Konig and Carolina (Ast) Konig who were Karla's grandmother and her father was Eddie Adair Walz born in Gove County. Eddie served in the Army during WW II and was stationed in Germany. Little did they know that when entering the museum it was fitting to direct their attention at two framed photos of Christian and Carolina mounted on an east side wall. It was picture taking time for both Claude and myself. They were delighted to see on another wall those of Henrietta Konig Huber and her husband Frank.
Learning from Karla that her ancestors had come from Illischestie, Bukovina, Austria, Karla's records show the Christian Konig family with seven children landed at the Port of Baltimore in 1892. With that said I directed their attention to shipping trunk in the middle of the room that was used by Anna Armbrister traveling with her nine children and pregnant at the same time also having docked at Baltimore in 1905.
My ears perked up finding out that Karla's husband Claude who is a retired Army Colonel was stationed and Director of the Black Sea Area Support Team serving at Mihail Kogalniceanu, Romania and the Lovells were able to spend a week traveling throughout the country. Karla requested to make a stop and visit Illischestie where the Christian Konig family once lived and Jennie Konig (King) was born.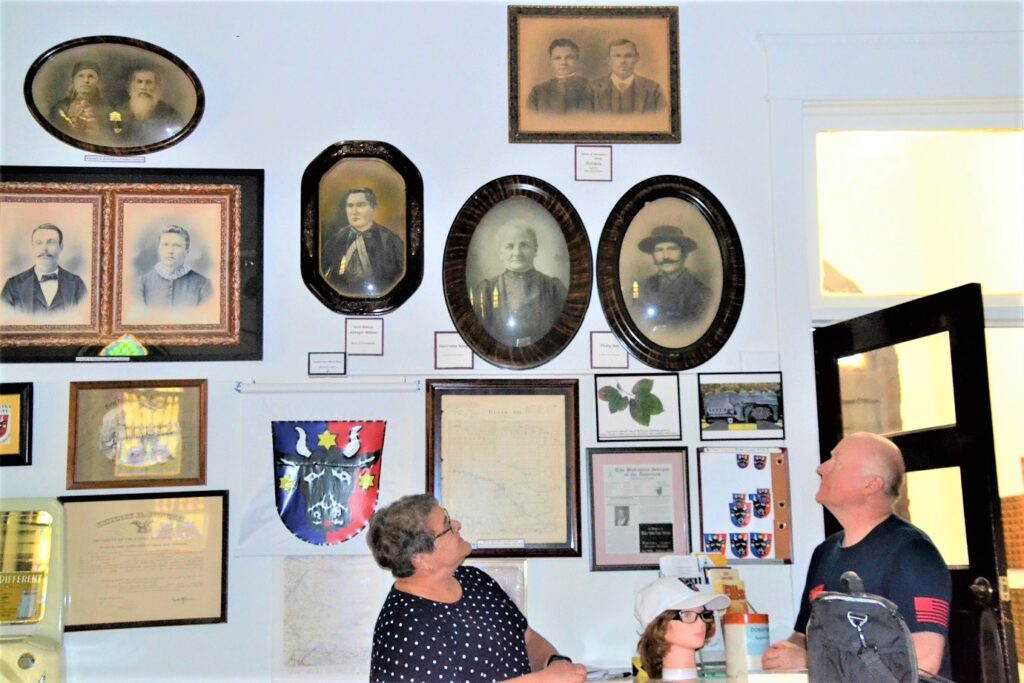 Prior to the founding of the Bukovina Society in1988 at Ellis, Kansas, Karla had gone to Fort Hays State University in Hays, Kansas and learned German from an Ellis County Volga German teacher named Leona Pfeifer, well known by all Germans in the area.
Karla went on to write in an email to me that said, "I had a wonderful 4th grade teacher in Oakley, Kansas where I grew up who convinced the high school German teacher to come to our class once a week to teach us German." She gives high praise and hopes to meet John Losee a life member of the society and knowledgeable on all the Hubers, Ast and Schoenthaler families and more in his and Douglas Reckmann's database of surnames listing over 100,000 thousand surnames in our genealogy database.
I hope to see the Lovells in Olathe soon, where my son and two grandsons live and have another great visit with Karla and Claude.
---
Bukovina Ancestors:
Christian König, *1854, Illischestie – +1896, Ellis
Karolina König geb. Ast, *1858, Illischestie – +1933, Ellis
Johanna "Jennie" Walz geb. König, *1887, Illischestie – +1959, Oakley
Kansas Ancestors:
Ernest G. Walz, *1907, Ellis, – +1971, Oakley