Erbert descendants gather in Ellis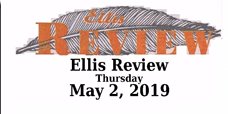 by Guy Windholz
---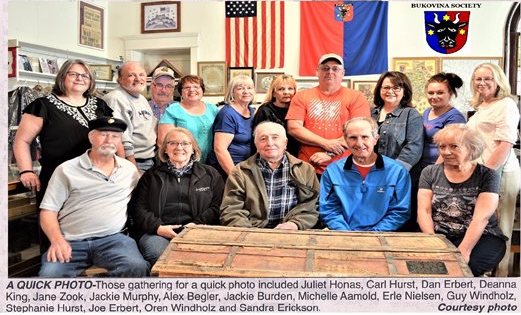 While the photo shows 15 participants in this gathering, 13 are core blood-related descendants with the Erbert clan that met for two full days of research and sharing of our family ancestry. Three remained two more days to dig deeper.
In the thoughts of some minds, 13 is an unlucky number but not when it comes to the good fortune to have had the opportunity to gather at the Bukovina Society headquarters and museum in Ellis.
They would come from various parts of the United States, to include locals from Benton, Iola, Larned, and Wichita, KS, and from Fairfax, VA, Ramona, CA, Albuquerque, NW, and topped off with a couple that has retired back to Hays from Scranton, CO.
On a cool and very windy day, a pre-gathering over a good cup of coffee at Riverside Restaurant would be the outlining of where this adventure would lead us, with a priority of meeting two of the original 1958 board members of the Bukovina Society of the Americas, namely seniors Joe Erbert of Ellis and Oregon Windholz of Hays.
Joe is widely known locally as the go-to person for information on historical matters in this area and Oren has authored two books on the Austria Bohemian Germans and the Erberts that settled in Ellis Count.
Excitement was well received with the unveiling of a prayer book written in German script dated 1713 and brought over the oceans on the ship know as the SS America.
It came from the patriarch of the whole Erbert clan, Philip Erbert and passed down to one of the three sons, Joseph, then to Joseph, Jr., and to the daughter Pauline Erbert Windholz.
After this hour-long meeting, the lucky 13 group would blaze onward in our caravan of cars and trucks to the Ellis area homesteads of our ancestors on the same limestone roads as our forefathers.
The air was filled with heavy clouds of wind driven dust reminiscent of chases that came about by law enforcement attempts to keep up with those fine gentlemen that needed to transport liquid beverages containing wheat grain additives to thirsty patrons in want and need to maintain their proper of maybe improper levels of hydration.
I have no firsthand knowledge that any Erberts were a part of this enterprise aside from the fact that they were large farmers of wheat and one of them owned the first gasoline powered tractor in Ellis County.
The first stop was at the homestead of the senior brother Rudoph Erbert that is currently owned and occupied by Robert J. Armbrister who welcomed us into his home by daughters Michelle and Sherry Fisher.
What a treat to visit with Robert since this is so close to Locust Grove road where a country school stood and the teacher in 1936 was my father Isidore and had taught his brothers Raymond and Clarence.
From a school roaster with desk top school bell used placed at the museum in Ellis, our youngest members of the group Michelle (Erickson) Aamold spotted the name of her grandmother and Sandra Erickson's mother and sister Erle Nielsen also along confirmed the additional listing of Arlene Lang.
Other students of record include Amrein, Begler, Kohl, and Neuburger. [A story for another day but appreciation to Society board member Eileen (Rathburn) Goetz for artifacts and additional history on my father and the school] Robert and I shall meet again as there is a wealth of information to gather on his life. Thanks to Robert and his family for the kindness sown to our group. Moving on at our first pace to other Rudoph locations, I was sort of odd ma in and odd man out as the group of 13 was comprised of 12 from the direct lines to Rudolph and I for the Joseph brother.
This would be a day for a future tour as we reach out to the families for the third brother, Frank, who actually came first to scout the Ellis area for settlement in the United States. Aside from the usual visits to Ellis cemeteries and the church of our faith, the last stop for the day took us to the former Cap and Albertine Henderson home. Here we were graciously greeted by Fritz and Glenda Kramer. Fritz being a veteran in the Army captured the  attention of all with various stories of his life and proved that this should be another story on another day.
In closing, it is so important that your proud ancestry and heritage be shared with your children that they will not have regret in their later life wondering what life was like for their parents, grandparents, and great-grandparents. They tell the best stories to be heard.
---
Bukovina Ancestors:
Pauline Erbert, *1915, Ellis – +1998, Hays
Josef "Sepperl" Erbert, *1870, Pojana Mikuli – +1944, Ellis
Theresia Erbert geb. Weber, *1876, Fürstenthal – +1935, Hays
Josef Erbert, *1822, Gurahumora – +1900, Ellis
Josefa Erbert geb. Fuchs, *1828, Aussergefild – +1911, Ellis
Josef Weber, *1836, Fürstenthal – +1923, Ellis
Barbara Weber geb. Haas, *1841, Fürstenthal – +1893, Ellis
Kansas Ancestors:
Isidor Windholz, *1907, Emmeram, – +1984, Hays
Martin Windholz, *1871, Russia, – +1915, Hays
Catherine Sander, *1869, Russia – + 1960, Emmeram
Ignatz Sander, *1837, Russia – +1915, Victoria
Johann Windholz, *1829, Russia – +1890, Ellis
Maria "Magdalena" Windholz geb. Pfeifer, *1830, Russia – +1918, Walker
Ignatz Sander, *1837, Russia – +1915, Victoria
Margaretha Sander geb. Therre, *1842, Russia – +1914, Victoria