Cathy and Don Webber discover new family connections
(while visiting the Bukovina Society Museum)
Guy Windholz
Posted September 9, 2021
Updated August 2, 2023
---
Coincidences just seem to happen when many people are drawn to the city of Ellis, Kansas celebrating one of the largest six-hundred ton locomotives that stopped for a break while passing through town. This event and visit by Cathy and Don Webber to the Bukovina Society museum was by their traveling just across the boarder of Nebraska and Kansas, making their home in the city of Franklin, NE.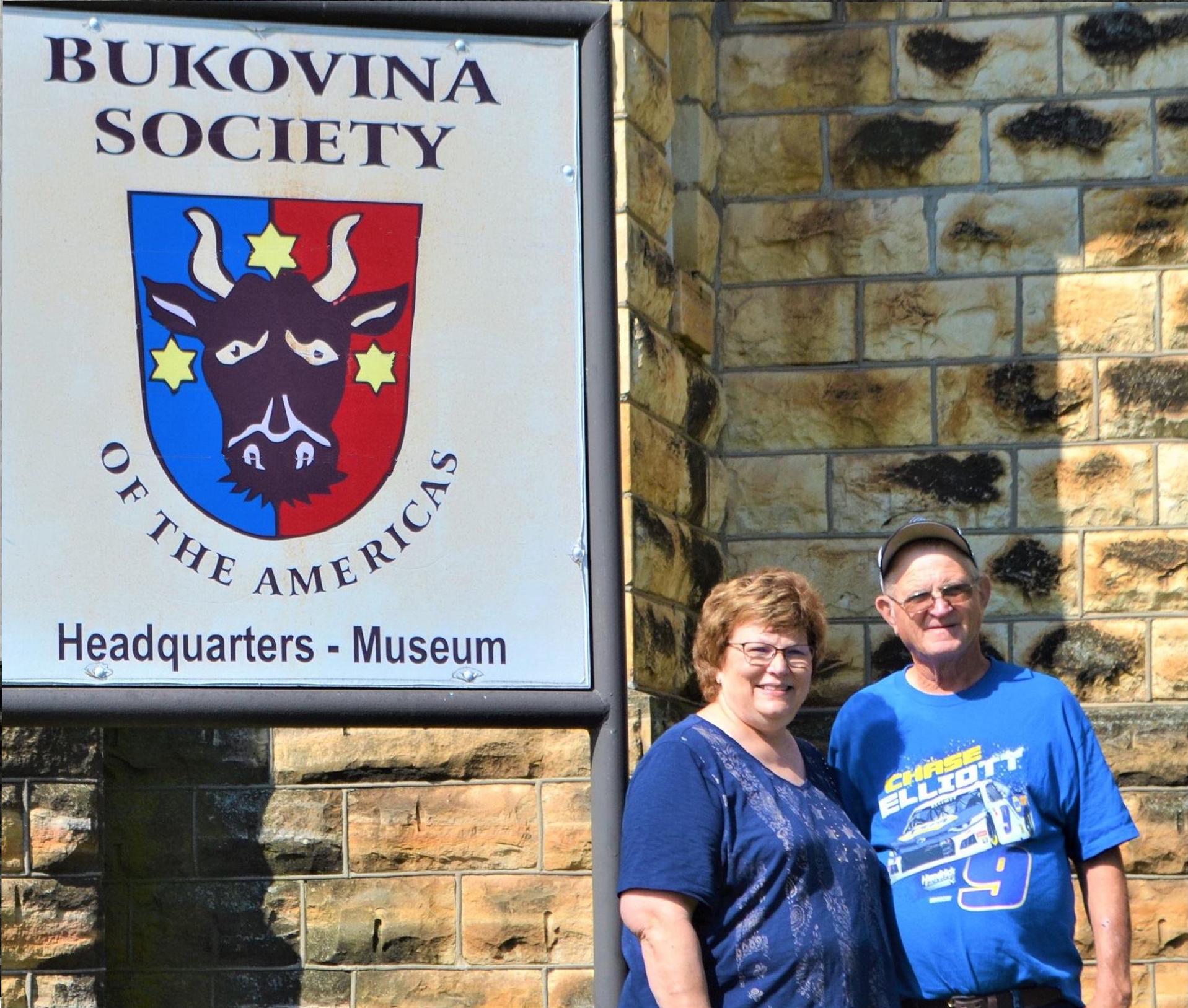 While at the museum Cathy was treated to learning more of her ancestry involving the Flachs/Flax family that she descends from. So we browsed through the book by Edward Al Lang BUKOVINA FAMILIES – 200 YEARS and found the entries of Ignatius and Martina Flax. From there we found further connections to the Weber families that immigrated to the United States. It was the turn of a few more pages and knowing that I come from the Joseph Erbert who married Theresia Weber (my grandparents), we turned to that page and looked at each other with astonishment that we are cousins having the same ties to the major part of the Erberts and Webers from Josef Weber who married Barbara Haas.
The world seems to be getting smaller the more people we all come across. Cathy is also an Ellis high school alumnus from the class of 1971. She immediately wanted to join the society to be able to further her researching of surnames among the one hundred and thirty-thousand entries in our members genealogy data base.
---
Bukovina German Ancestors:
Anna Flachs, *1868 Pojana Mikuli – +1951, Ransom
Gottfried Flachs, *1896, Pojana Mikuli – +1969, Ransom
Katharina Flachs geb. Weber, *1900, Fürstenthal – +1967, Ransom
Paul Flachs, *1863, Pojana Mikuli – +1925, Ransom
Barbara Weber geb. Haas, *1841, Fürstenthal – +1893, Ellis
Johann Weber, *1863, Fürstenthal – +1918, Ellis
Josef Weber, *1836, Fürstenthal – +1923, Ellis
Katharina Weber geb. Gaschler, *1867, Fürstenthal – +1926, Ellis
Volga German Ancestors:
Josef Braun, *1815, Herzog – +1885, Liebenthal
Elizabeth Kreutzer geb. Spies, *1871, Volga – +1935, Rush
Johann Peter Kreutzer, *1835, Volga – +1906, Liebenthal
Josef Kreutzer, *1861, Volga – +1945, Liebenthal
Maria Katharina Kreutzer geb. Goetz, *1838, Volga – +1904, Liebenthal
Jakob Spies, *1841, Volga – +1885, Liebenthal
Maria Katharina Spies geb.Braun,  *1842, Herzog – +1924, Liebenthal
Peter C. Unrein, *1882, Parana, Brazil – +1951, Schoenchen
Kansas Ancestors:
Ignatius Flax, *1922, Ransom – +2009, Hays
Martina Flax geb. Unrein,  *1924, Schoenchen – +2002, Ellis
Appolonia Unrein geb. Kreutzer,  *1904, Rush – +1982, La Crosse
Catherine Elizabeth Unrein geb. Hertel,  *1882, Ellis – +1928, Schoenchen
Jacob Charles Unrein, *1904, Schoenchen – +1990, Great Bend