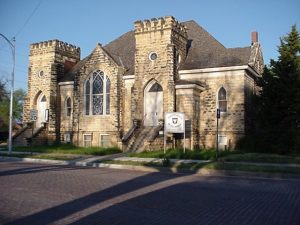 The First Congregational Church, founded in Ellis in 1873, was believed to be the first organized congregation in the town. Early services were held in the Ellis House, and the town's first school house. In 1907 through the generosity of the congregation and local citizens, the present building was erected. It was a grand event for the times, and prominently featured in the local newspaper.
The church was closed in 1971, but a centennial celebration was held in 1973 followed by the incorporation of the Ellis Arts and Historical Society to assure preser­vation of the historic building. Since then the trustees have made the facilities available for public use, with the chapel the site of occasional weddings, and the lower level used for local meetings, meals, and receptions.
The Bukovina Society had many dreams, and a headquarters building seemed far off except for the generous co­operation of the trustees of the Arts and Historical Society, led by Jack Nicholson and Mary Pearson. The City Council of Ellis in May of 1991 gave unanimous support to the society. The society headquarters was dedicated at the opening of the third annual convention in July of 1991. The museum will be opened for visitors to Ellis by calling one of the board members listed on the mailbox outside the building.  You may also make advance times to visit by emailing info@bukovinasociety.org.
The Bukovina Society Headquarters-Museum  maintains a collection of artifacts from Bukovina emigrants, along with a small library of books.    Microfilm copies of some Catholic Bukovina parish registers are held at the Ellis Public Library. An archive of additional material is also located at the Center for Ethnic Studies at Ft. Hays State University, in Hays, Kansas.
To learn more about Ellis, please visit: http://www.ellis.ks.us/
Ellis County is considered by some to be the German Capital of Kansas, due in part to descendants of Bukovina German immigrants and an even much larger group of descendants of German immigrants who came from the Volga River region of Russia.  To read more about the Volga Germans and Bukovina Germans of Ellis County, Kansas, please see German Attractions & Historical Churches of Ellis County, Kansas 2010.