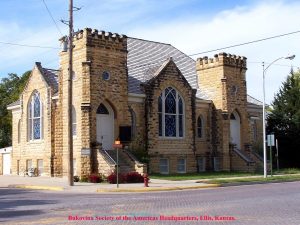 ---
Welcome to the website of the Bukovina Society of the Americas.  We are very happy you are visiting us here on the internet and we hope that you will find these pages informative and enjoyable. If you are interested in joining the Society, please note the information below on this page, or e-mail us at:  allmail@bukovinasociety.org. We welcome the opportunity to provide you with more information.
If you have a Bukovina ancestry and/or interest, we encourage you to participate in sharing your interests and thoughts both here on this website.  Many visitors to this site have told us of friendships started here. And yes, many long lost "cousins" have found each other through the contact information provided. We hope that your experiences here will be equally rewarding.
During your travels we invite you to visit our museum and headquarters in Ellis, Kansas.  People from all over the world have enjoyed the stop. If you e-mail or write ahead, we can be sure to have someone meet you there.
OM  Windholz
President, Bukovina Society of the Americas
O M Windholz
Martha McClelland
Shirley Kuppetz
Guy Windholz
BSA President
Vice President
Secretary
Treasurer
We hope that you were able to attend our BUKOVINAFEST 2017, September 7-9, 2017 in Ellis County, KS!
The editorial staff welcomes manuscripts and memorabilia related to Bukovina and/or Bukovinians for possible publication in the Newsletter and for its archives.
Publisher:
O M Windholz
P.O. Box 1083
Hays, KS 67601-1083